It is hard to predict where life will take you and how it will circle back around. I'm old enough to see behind me now, and smile at some of the weavings.
My grandmother had wallpaper on one wall of her living room. My memory of it is one of repeated scenes in a beautiful countryside: stone footbridges over picturesque streams, with a fancy lady in a gown being helped across by her suitor; another lady sits, her hair piled high in ringlets and her gown spread around her on a blanket under a tree, while her beau reads aloud to her; ponds with graceful swans and birds overhead in the clouds.
There may have been gentleman on grand horses, and there might have been ladies with fringed umbrellas. It's been many years since I was in that house, and many more since I was a child studying that wallpaper. But I can still imagine a castle right across the meadow, just beyond the edge of Grandma's wall.
I wonder how she came to choose that particular wallpaper. It was in keeping, in a way, with the mirrored curio cabinet on the adjacent wall filled with small knick-knacks, and the mannequins, or court jesters, posed in their diamond-patterned leotards and ballet flats on the wall around the corner.
Still, that bucolic scene was far removed from Grandma's small, simple house on the dead end street in Tiny Town USA. Perhaps that was the point, to bring an elegant countryside into everyday view.
Many, many years later, I walked slowly through the Hall of Mirrors in the Palace of Versailles in France, my image splitting around me on all sides. I was wearing an ankle-length wool cashmere coat with a velvet collar and cuffs (very French!) that my grandmother would have appreciated. I passed up and down sweeping, gilded staircases, and looked out from high windows at endless gardens with ornate fountains.
And I thought of Grandma's wallpaper. No one would be more amused than she that the Palace of Versailles brought to my mind her home.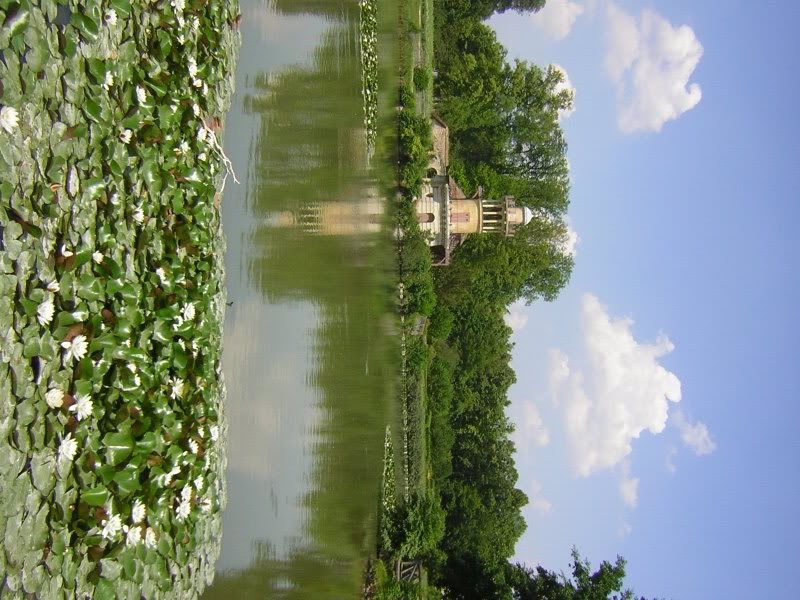 A hamlet at Versailles
Tomorrow - a new edition of Shark-Bites!!!