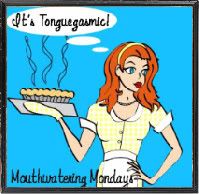 Some people are chili connoisseurs. They have a signature chili recipe that they have fine-tuned and they readily boast of the unique qualities that make it "the best chili EVER."

Others of us - not so much. If you are in the latter category, I am about to give you my "canned" chili recipe that is super simple but comes out tasting so perfect, you'll be able to claim it was passed down from your ancestors, or that you've slaved over variations of it for years to get it just right.

My favorite thing about this recipe is the easy way you can adjust how spicy/hot it turns out, which is nice if you have kids who like a milder version.
Amy's Perfectly Easy Chili
2 lbs. ground beef
2 cans kidney beans (15 oz each)
1 medium onion, chopped
1 large bell pepper, chopped
2 cans diced tomatoes (15 oz each)
2 packages McCormick chili seasoning, one original and one mild
2 teas. salt
1/2 teas. black pepper
1 can tomato sauce (15 oz)
1 can tomato paste
1 & 1/2 cups water


Brown ground beef slowly and pour off fat. Saute onion and green pepper in butter or oil. Put beef in a large pot, add kidney beans, onion, and green pepper and cook for 15 minutes. Add diced tomatoes and chili seasoning packets; cook for another 10 minutes. Add salt and pepper; simmer another 5 minutes. Add tomato sauce and water and cook slowly for about 30 minutes, stirring occasionally.


As it cooks you can add some tomato paste to thicken it up or a little more water to thin it out, to get the consistency you want. Add more salt and pepper to taste.

For milder chili, use two packets of mild seasoning. For hotter chili, use two packets of original seasoning. I use one of each, which will make your nose run, but people who don't like very hot chili will still eat it. It's the perfect amount of "kick."

I make Jiffy Mix cornbread out of the box to go with this - it's moist and sweet and compliments this chili perfectly. (And Jiffy cornbread mix is like .89 a box!)
Best of all, this whole meal comes mainly from cans, packets, and box mixes, and no one you invite over will suspect that you didn't slave over it!
To see more great recipes, visit
Rachel and her linky goodness
!! And don't forget, she's Food editor at
Blissfully Domestic
, so even more great recipes can be found by clicking over there.


Happy Monday
In case you've not been paying attention,
Blissfully Domestic
is having a blogger conference in February in Nashville. Click my little button up at the top left side bar for more information on the great line up of speakers and topics. Hope to see you there!