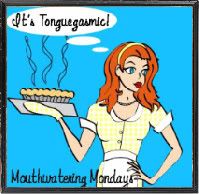 Howdy y'all!
You are gonna love me for this, especially if you have kids. It's as easy as can be and kids and adults alike will tuck in and clean their plates. Perfect to warm their bellies on cold winter nights!

Easy Pork Chops and Gravy

4 boneless butterfly pork chops
1 can cream of mushroom soup
1/2 C. of milk
1/2 C. of dry white wine

Brown chops in skillet on both sides, sprinkling with salt and pepper.

In a small bowl, mix soup, milk, and wine. Pour over chops, cover and simmer for 45 minutes to an hour. Stir every 15 minutes to keep chops from sticking.

Serve with mashed potatoes or egg noodles. You can also substitute boneless chicken breasts for the pork chops, as in this photo of tonight's dinner at my house.


This recipe is delish! I am a terrible gravy maker, but this is perfect every time. (Really - idiot proof.) The wine cooks out leaving just a touch of sophistication to the flavor of this gravy.


Happy cooking!