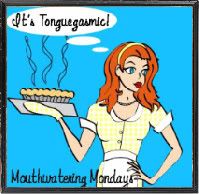 Five Cup Salad
1 cup sour cream
1 cup mini marshmallows
1 cup flaked coconut
1 cup mandarin oranges
1 cup pineapple tidbits
Drain liquid from fruit and mix all ingredients in a bowl. Chill and serve.
I don't have a photo! Sorry about that, but as you can tell this recipe is extremely fast and easy and everyone loves it, even kids. I think it tastes best made the day before you need it.
Creamy, cool, and delicious!
Visit sweet Rachel for more
Mouthwatering Monday
recipes.
Next week I'm making Tennessee Sin. Y'all come back now, y'hear?