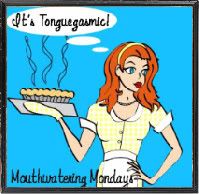 This is a recipe from my husband's family. When he first told me about Island Sandwiches my eyebrows went up as if to say, "Really?" It's one of those recipes that sounds awfully strange, but somehow all the flavors work together and, weird as it is, you tuck right in!
Island Sandwiches
Fresh Pumpernickel bread
Roasted chicken
Bacon
Hard boiled eggs
Sliced swiss cheese
Thousand Island dressing
Cover a slice of Pumpernickel with a layer of chicken. You domestic types can roast a bird. I buy a Wonder Roast at the grocery.
Layer bacon slices on next.
Next add a slice of swiss cheese and melt it in the microwave.
Slice your eggs with an adorable chicky slicer thingy.
Place egg slices on for your next layer.
Top with Thousand Island dressing. (Don't tell kids it is Thousand Island dressing. I don't know why it is repugnant to children, but it is. Tell them it's "special sauce.")
You'll need a knife and fork to eat it.
ENJOY!
Dang y'all, I have a whole new respect for food photographers. I can't take a decent picture of anything edible.
Visit
Rachel
for more fantastic recipes!