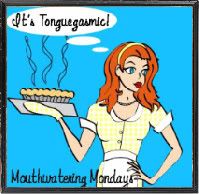 I promised to do Tennessee Sin this week, but dudes, I was sick for the second weekend in a row. Last weekend it was a stomach virus that you do not want to even hear about and this weekend I came down with a cold. So Tennessee Sin will have to wait until next week. I have to be feeling a lot more energetic than this for some good sinning, you know.
While I'm sure Tennessee Sin sounds better to you than Mexican Slop, I assure you that is not the case.
My husband invented this recipe! It's yummy, easy, healthy, and involves no cooking. The perfect working mother's weeknight I-didn't-make-a-meal-plan meal.
Mexican Slop
1 roasted chicken
1 can black bean soup
1 container of sour cream
Salsa
Optional: shredded cheddar cheese
Like our
Island Sandwiches
, buy a fresh, hot, roasted chicken from the deli department at the grocery store. Slice the chicken, arranging some on each person's plate.
Heat Black Bean Soup in the microwave and top chicken with desired amount of black beans. We like Goya the best.
Next, a tablespoon or two of sour cream.
Finally, top with salsa.
Why do we call it slop, you might wonder? Well, we like to mix it all togther and then it looks a lot like -- slop. I didn't take a picture because it really doesn't look that appetizing mixed up. But it tastes SO good! And if you use low-fat sour cream it's really quite good for you.
Our kids like it too - and telling them they get slop for dinner tonight only adds to the appeal, naturally.
Visit Rachel in
The Land of Monkey's and Princesses
for more Tongasmic recipes!
Links to my previous Mouthwatering Mondays:
Five Cup Salad
Island Sandwiches
Amy's Best Chili
Blissdom is this weekend!!!!!!!!!!! I'll be posting my Sites to See in Nashville this week, and don't forget to review What to Eat and Where to Shop.
Briefly last year, I was a contributor to the Beauty section of Blissfully Domestic. But now I am switching channels and will be writing for Wedded Bliss. Writing about marriage seems intimidating to me, but I've been at it a long time and I have a solid one, so I'm hoping to start some good conversations over there. I do hope you'll check it out, along with all the other fantastic content at Blissfully Domestic!