If you look at my
previous
entries
for
Rachel'
s
Mouthwatering
Monday
s, you'll see that this working momma rocks the simple & easy on a regular basis.
Today, I outdo myself.
Truly.

Here is my recipe for Tea Time.
1 novel
1 cup of hot tea, flavor of your choosing, with saucer
1 teaspoon of honey
1 box of Girl Scout Cookies
Add honey to your tea (substitutions: cream, sugar, lemon, etc... to taste). Place tea, cookies, and novel on a small table, sink into your favorite chair and enjoy!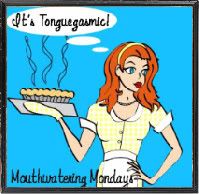 Rachel actually cooks -- check out her
recipes
and all the linkies!!
PS: Don't forget to weigh in on the rare
weekend post
. But don't be overly defensive - it's a real question.