I'm glad to be back! I've missed you! My Reader exploded while I was gone (y'all have been busy) and left the "Reader" box on my specially personalized iGoogle homepage dripping with melted font and scattered with broken pieces of HTML. Thank God for the MarkAllAsRead CLEAN button.

The Big Apple Recap will be forthcoming this week featuring lanterns, tulips, and Amish people. Like WOW can I ever find the freaky in NYC, eh?
But for now look at THIS!
YUM
COWBOY COFFEE CAKE
1 - 11 oz can of refrigerated buttermilk biscuits
1/4 C. butter, melted
1/3 C. firmly packed brown sugar
1/3 C. chopped pecans
1 teas. cinnamon

Arrange biscuits in a lightly greased 9" cake pan, edges overlapping. Mix together butter, brown sugar, pecans, and cinnamon; spread over biscuits. Bake for 30 minutes at 350 degrees. Serve warm.


Visit Rachel for more amazing recipes at Mouthwatering Mondays!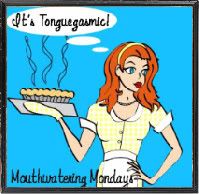 Smootches!!