I should not be giving this one away for free. It's that good.
Balsamic & Garlic Grilled Chicken & Baked Rum Pineapple
For the chicken marinade, combine
1/2 C. balsamic vinegar
3 T. honey
2 t. lemon juice
2 t. vegetable or olive oil
1/2 t. onion powder
1/4 t. white pepper
4 cloves garlic, chopped
Pour marinade over 6 chicken breast halves and let marinate at least 30 minutes in the refrigerator.
Pour off marinade into a saucepan and boil, reduce heat, and simmer for a few minutes.
Give the chicken to your husband and he will grill it to juicy perfection, basting with the simmering marinade.
Serve this delicious chicken with Baked Rum Pineapple, as follows:
In a glass baking dish arrange pineapple rings or cubes (one 24-oz can).
Sprinkle / dot with:
3 T. shredded coconut
2 T. brown sugar
3 T. dark rum
1 T. butter
Cover with foil and bake on 350 for 30 minutes.
These dishes are perfect with each other, and a nice white wine, in the summer. (Tip: drizzle some of the juice from the pineapples over the chicken. YUM.)
Serves 6.
For more wonderful recipes visit Rachel in
The Land of Monkeys and Princesses
!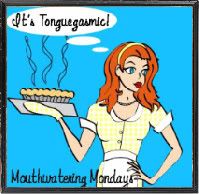 Happy Monday!