This is one of my favorite summer recipes: Cheese & Onion Squash.
It's really simple, healthy, and my kids will eat it, so that makes it pretty much perfect!

6 yellow squash
1/4 t. salt
1/8 t. plus ground pepper
1 T. sugar
1/2 C. shredded cheddar cheese
1 T. minced onion

Wash and slice squash into thin rings and place in steamer basket on stovetop. Steam until tender.

Using a potato masher, mash squash in a collander over the sink. (The squash will be watery and this drains the water off as you mash it.)

Put squash in a bowl and add salt, pepper, sugar, cheese, and onion. Mix until cheese melts.

Voila! Serves 4.

For more wonderful recipes visit Rachel in The Land of Monkeys and Princesses!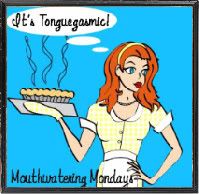 Happy Monday Everyone!!