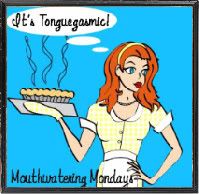 These cookies are rich chocolate raisin spice citrus balls of pure bliss. This is one of the most unusual and delicious cookies I've ever tasted and an all-time favorite recipe of mine.
Even the ingredients look good, sitting there expectantly, waiting to be blended and baked into something yummy.


Lemon-Iced Chocolate Spice Cookies
1 1/4 C. raisins
3 T. fresh orange juice
1 C. plus 2 T. butter, softened
1 C. sugar
1 egg
2 t. grated orange rind
1 1/2 t. grated lemon rind
2 t. vanilla extract
3 C. all-purpose flour
3/4 t. baking powder
1/2 t. baking soda
1/2 C. cocoa
1 t. grated cinnamon
1 t. ground allspice
3/4 t. ground ginger
1/2 t. ground nutmeg
4 (1 oz.) semisweet chocolate squares, coarsely grated
Lemon Glaze

Combine raisins and orange juice in a small bowl; let stand at least 10 minutes.

Beat butter at medium speed until creamy; gradually add sugar, beating well. Add egg and next 3 ingredients, beating well.

Combine flour and next 7 ingredients, stirring well.

Shark Boy loves to cook. I hope that sticks.

He'll make some girl a good husband someday. Isn't a man in an apron wonderful?



Add half of flour mixture to butter mixture, beating well. Add raisin mixture and grated chocolate, stirring until well blended. Stir in remaining flour mixture.

Our sophisticated chocolate grating method. I call it elbow grease. It's an excellent upper body workout.

I mentioned these cookies were rich, right?

Shape dough into 1-inch balls, and place on lightly greased baking sheets.
Bake cookies at 350 for 9 minutes or until almost firm. (Do not over bake.) Cool on baking sheets 3 minutes.
Dip cookies in Lemon Glaze.

Store cookies in an airtight container up to 3 weeks, or freeze up to 8 months.
Yield: 6 dozen-ish

Lemon Glaze
2 1/4 C. sifted confectioners' sugar
2 T. lemon juice
1 T. orange juice

Combine all three ingredients, stirring until smooth. Add additional confectioners' sugar or orange juice to adjust consistency. (I like a thick but still drippy consistency.)
Voila! Enjoy!