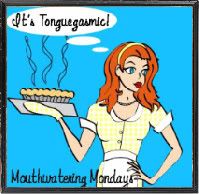 This is a favorite of mine from Southern Living that everyone loves. And no one minds, or even suspects, that it is vegetarian, or made with eggplant, or low in calories and healthy.
Think you don't like eggplant much? Make this and you won't be able to say that again. I made it for my brother and sister-in-law, the family vegetarians, at Thanksgiving and everyone smelled it and wanted some!
Mediterranean Ravioli
2 t. olive oil
1/2 lb. eggplant, peeled and cut into bite-sized cubes
1 C. chopped onion
2 cloves garlic, minced
1 (15-oz) can of diced tomatoes
2 T. sliced ripe black olives
1 T. balsamic vinegar
1 t. dried thyme
1 (9-oz) package refrigerated light cheese-filled ravioli*
3 T. grated Parmesan cheese
Eggplant doesn't smell especially appealing uncooked. Doesn't even seem particularly edible. But trust me on this.
Coat a large non-stick skillet with cooking spray; add olive oil, and place over medium-high heat. Add eggplant, onion, and garlic; cook, stirring constantly for about 5 minutes, or until eggplant is turning translucent and tender.
You can just sort of tell when it's cooked. It's tender and darker in color.
Stir in tomato sauce and next three ingredients - olives, balsamic vinegar, and thyme; remove from heat.
It's at this point you are saying to yourself, "That Amy knows her stuff. Have mercy this smells divine!" It's the balsamic vinegar. Once you pour that in you'll know you're onto something good.
Cook ravioli according to package directions; drain. Rinse with cold water; drain again. Toss with vegetable mixture, and place in a 1.5 quart shallow baking dish coated with cooking spray. Sprinkle with cheese. Bake at 350 for 30 minutes.
This - is awesome!
Serves 4. (288 calories (25% from fat) per serving)
When I make it for company I at least double the recipe.
*I use the containers of pasta from the cold case in the middle of the pasta aisle.
Want more fantastic tried-n-true recipes? Visit Rachel in
The Land of Monkeys and Princesses
!