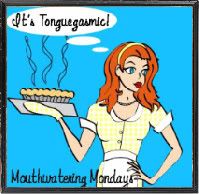 This recipe is easy and impressive. Also, you can get some aggression out by using a rolling pin like a baseball bat.

Chicken Baked in Pastry
4 small skinless, boneless chicken breasts
1 container of cream cheese with chives and onion
1 pastry crust (frozen puff pastry or a refrigerated roll-out pie crust)
Butter, oil, salt and pepper

Place each chicken breast in a ziplock bag, sealing it shut except for a half an inch to let the air out. Take your rolling pin and beat the crap out of it. This tenderizes the chicken and also flattens it. And it will make you feel better.
Heat 2 T butter and some oil in a skillet and brown chicken breasts, seasoning with salt and pepper, until they are nearly cooked.

Roll out your pastry or pie crust. Using a knife, cut four 7 inch squares*, one for each chicken breast.
It's amazing I can cook under these conditions. (No, he didn't actually put his foot on my pastry. He was thisclose before I grabbed him. I've no idea what Shark Boy is doing. )

In the center of each pastry square, place about 2 T of the cream cheese.
Top each dollop of cream cheese with a chicken breast. I slice the sides off of the chicken to make them even & sort of rectangle shaped. Use the chicken you chop off in a salad the next day. (Option for this recipe: cut smaller bite-sized chicken chunks and smaller pastry squares, making these into hors d'ourves instead of dinner.)
Brush the edges of the pastry with water or egg wash, and fold up, wrapping your chicken like a present. Place them seam side down on a greased baking sheet.
Brush the tops with egg wash.
Bake at 400 degrees for about 20-25 minutes or until golden brown.
These are delicious! If I were making them for company, I would take the pastry trimmings, roll them out, and either cut shapes with tiny cookie cutters or cut long thin strips and braid them. Place the shapes, or lay the braid, across the top and then do the egg wash. It is a simple extra step that will make them look really pretty.
Tip 1
: Let the chicken cool off before you wrap it. If it is too warm the pastry gets melty and is harder to work with.
*Tip 2:
The original recipe said 7" squares. I've yet to find a chicken breast that will fit that size. I always have to do larger squares or cut the chicken to a smaller size. It's no big deal, but you'll have to judge it when you get to that step.
Enjoy! More Mouthwatering Monday from Rachel
here
.
My Mouthwatering Monday history
here.