Fresh Berry Gazpacho
1 (750 milliliter) bottle Riesling
1 vanilla bean, split*
1 bunch fresh mint
1 (10 oz) pkg frozen strawberries, thawed
1/2 C water
1/3 C honey
2 T. lemon juice
1 C. fresh raspberries
1 C. fresh blueberries
1 C. fresh blackberries
Raspberry sorbet
Fresh mint sprigs for garnish
Bring
first 3 ingredients to boil in large saucepan over medium-high heat; boil until reduced to 1 1/2 cups. Cover and chill.

The Reisling / mint / vanilla bean concoction smells divine.
Pour wine mixture through a wire-mesh strainer into a large bowl, discarding bean and mint.

Process strawberries and water in a blender until smooth; pour through wire-mesh strainer into wine mixture, discarding seeds. Stir in honey and next four ingredients; cover and chill.

Serve with raspberry sorbet; garnish with mint sprigs if desired.

Makes 8 cups. (Southern Living, 1997)



Kids scarf this right up. It's like dessert comes with dinner!

*Just a couple of things about vanilla beans. First, they are expensive. I paid $7.64 for two vanilla beans. Second, this post will show you how to split one.



I'm just showing the picture again because it looks SO good.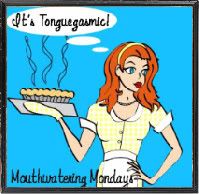 For more yummy recipes check out the links at The Land of Monkeys and Princesses.