French Onion Casserole

3 medium-size Vidalia onions
2 T butter
1 (8-oz) pkg sliced fresh mushrooms
2 C (8-oz) shredded Swiss cheese, divided
1 (10 3/4-oz) can cream of mushroom soup, undiluted
1 (5-oz) can evaporated milk
2 t soy sauce
6 (1/2 inch thick) slices of French bread
1/4 C finely chopped fresh parsley
Peel and slice onions, separating into 1/4 thick rings. Melt butter in skillet over medium-high heat; add onion and mushrooms. Cook, stirring constantly, until tender.
Spoon mixture into a lightly greased 2-quart baking dish. Sprinkle with 1 C of cheese.
Combine soup, milk, and soy sauce; pour over cheese. Top with bread slices, and sprinkle with remaining 1 C of cheese and parsley.
Cover and chill for 4 hours (can be chilled for up to 8 hours). Remove baking dish from refrigerator and let stand at room temperature for 30 minutes.

Bake, covered, at 375 for 30 minutes. Uncover and bake an additional 15-20 minutes or until thoroughly heated. Let stand 5 minutes before serving.


Serves 6.
Southern Living Annual Recipes, 20th Anniversary Edition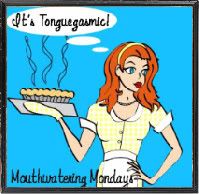 Visit Rachel for more wonderful recipes!
If you are in Nashville, my friend Lori at 6 at the Zoo is giving away a gift certificate to Las Paletas - the gourmet popsicle store! Hop over and enter!!