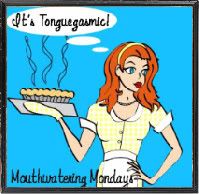 I call this Lucy's Salad, because the recipe was given to me by a lady named Lucy, who was on the Junior League Marketing Committee with me
before I became a Junior League drop out
.
Fresh romaine is gorgeous, isn't it? The only lettuce prettier is Bibb.

Lucy's Salad
1 large head of fresh romaine
1 C cashew halves
1 C shredded swiss cheese
1/2 C craisins
1 ripe pear, peeled and chopped*
1 Granny Smith apple, peeled and chopped

Dressing:
1/2 C sugar
1 t dijon mustard
1/3 C oil
1/3 C lemon juice
1/2 t salt
1 T poppy seeds

Ready to assemble!


This salad tastes sweet, with a bit of tart from the apples and craisins. Perfection!
*I buy any type of pear that I can find that is soft and ripe. Usually Anjou pears, but I'll take a Bartlett if they are softer.
Visit Rachel for more amazing recipe links.
Remember - comment by midnight on Monday - Labor Day - to win 4 tickets and 4 ride wrist bands for the Tennessee State Fair.