Great-Uncle Dave brought my Great-Aunt Helen into the family. Aunt Helen was tiny, with snow white hair and a pretty smile.
Aunt Helen was Polish and Roman Catholic. Growing up she was the only person I knew who had a picture of the Pope in her home (the rest of us were not Catholics). Being Polish, Pope John Paul II meant the world to her. My own conversion to the Catholic faith made her just as pleased as punch.
Aunt Helen is responsible for one of my family's heirloom recipes, Poor Man's Cake. This recipe came out of the rationing that was done during World War II, when you had to use your eggs judiciously. This cake doesn't call for any eggs at all. And if there were recipes I post here that I could somehow force people to make, this would be one of them. This cake is fantastic, beyond what the simple list of ingredients would indicate.
I present:
Great Aunt Helen's Poor Man's Cake
Water
1 box of raisins
1 t baking soda
2 C sugar
1/2 C shortening
1 t salt
1 t ground cloves
1 t cinnamon
1 t nutmeg
4 C flour
Put raisins in 2 C of water in a saucepan and cook on med-high heat for 10 minutes. Remove from stove.
Add 1 C cold water and 1 t of baking soda; stir.
In a large bowl, mix sugar, shortening, salt, cloves, cinnamon, and nutmeg. Add raisin / water mixture. Add flour, mixing well.
Pour into a greased cake pan. Bake at 350 for 45 minutes or until done.
This cake is perfect for fall, full of raisins and spices, and it's very moist and dense. Absolutely a family favorite of mine!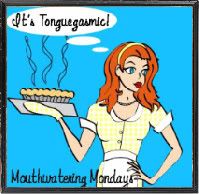 Visit Rachel for more wonderful recipes!