I am lucky enough to have my grandmother's iron skillet. I can cook with it, which actually adds iron to our food, and if I ever need a weapon, it's my go-to choice for braining someone. (It's
heavy
.)
People used to make cakes in their iron skillets, so when my mom visited recently she showed me how to make a pineapple upside-down cake in my skillet.
Old-Fashioned Pineapple Upside-Down Cake
Take 1 cup of brown sugar and mix in 1/2 stick of melted butter. Coat your skillet or cake pan with cooking spray and then spread with the brown sugar/butter mixture.
Place pineapple rings on the brown sugar mixture with a cherry in the center of each one. You can also use crushed pineaple and place cherries where you want them.
Mix up a yellow cake according to directions, and spread on top of the pineapples and cherries.
Bake in the oven using the suggested temperature for the cake, but adding at least 10 minutes to the baking time. Cake is ready when it is brown and a toothpick comes out clean.
Turn it out onto a platter. This cake is so moist and delish!
Thanks to Mom, who had to make her own birthday cake for the sake of my blog post!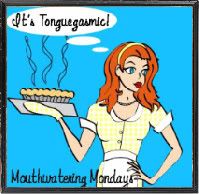 Visit Rachel for more wonderful recipes!