My mom has made this for years. It's a family favorite, and a salad that can serve as your meal, and a fool-proof way to impress company.
Poppy Seed Chicken Salad
3-4 cooked chicken breasts, cut into thin strips
3 green onions, sliced thin
1/2 T poppy seeds
4 T sugar
2 t salt
1/2 t pepper
1/2 C salad oil
4 T cider vinegar
1 to 1.5 heads of iceburg lettuce
A handful of Romaine letttuce (optional)
1 small package sliced almonds
1 can Chinese noodles
Break lettuce into bite-sized pieces. The recipe calls for a head and a half of iceburg, but I like to use one head of iceburg and some romaine. The romaine adds dark leaf for health and color. I like iceburg as the base though because it's the perfect cool, crunchy lettuce this recipe needs.
Slice the green onions.
I love to slice green onions. The smell reminds me of the lower playground at Roosevelt Elementary School. The hillside surrounding the field was covered in wild onions in the spring, and my friends and I would climb up and pick them. Some kids would eat them but I never did.
Toss together chicken, green onions, almonds, poppy seeds, and noodles.
In a small bowl whisk together sugar, salt, pepper, vinegar, and oil. Pour dressing over chicken mixture and toss with the lettuce.
Seriously delicious!
Visit
Rachel
for more Mouthwatering Monday!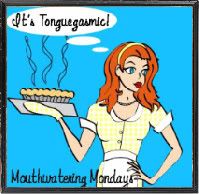 Enter to win a DVD
of Fantastic Mr. Fox and/or Amelia.