This is what they call a "hearty dish". It is an excellent way to make use of your left-over baked ham at Easter.
Scalloped Ham and Potatoes
1/4 C butter
1/4 C all-purpose flour
2 C half-and-half
3/8 t salt
1/4 t white pepper
4 medium potatoes, peeled and sliced thin
2 C cooked ham, chopped
1 small onion, sliced thin and separated into rings
1/2 C chopped green pepper
2 cloves garlic, minced
Melt butter in a heavy saucepan over low heat; add flour, stirring until smooth. Cook 1 minute, stirring constantly. It is important to sprinkle the flour on as soon as the butter melts and keep the heat low - this will prevent gooping. (Why yes, "gooping" is a culinary term and not at all something I made up.)
Gradually add half-and-half; cook over medium heat, stirring constantly. I whisk it in. The gooping thing again. You want this to be like a smooth paste. Stir until thickened and bubbly. Stir in salt and white pepper.
Combine potato, ham, onion, green pepper, and garlic in a large bowl; stir well.
Oh look - I'm in the onions. I didn't even plan that.

Now you make layers. Spoon 1/4 cup sauce mixture into a greased ovenproof skillet and spread to coat the bottom. I use my cast iron skillet but a casserole dish will do.

Layer half of potato mixture over sauce. Top with half of remaining sauce. Then add more potato mixture. Then top with the rest of the sauce. It will look like this:
Cover and bake at 350 for 1 hour until potato is fork tender. (8 servings). I serve it right out of my iron skillet.


This is simply delightful, rustic, comfort food. It reheats beautifully.
Visit
Rachel
for more Mouthwatering Monday!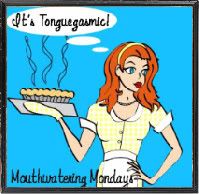 ALSO: I'm going to set up a linky for the first Tuesday of every month, beginning in April, to
blog your treasures
- please join us!