This is one of Mr. Smith's all-time favorites.
Bourbon Marinated Pork Tenderloin

1 (1 to 1.5 lb) pork tenderloin
6 T Worcestershire sauce (I like Lea & Perrins)
3 T bourbon (I use Maker's Mark)
3 T maple syrup
2 T honey-Dijon mustard (sometimes I use Emeril's Kicked Up Horseradish Mustard)
2 T vegetable oil
1/4 t ground pepper

Whisk together Worcestershire sauce and next 5 ingredients in a small bowl until blended. Pour marinade into a large ziplock freezer bag, add the tenderloin, seal the bag. Turn the bag over a few times to coat the tenderloin well with the marinade.

Chill 2 hours, turning occasionally.

Grill pork, covered with grill lid, 10-12 minutes on each side or until a meat thermometer inserted in the thickest portion reads 150 to 155. Remove from grill and let stand 10 minutes before slicing.

While pork is grilling, pour marinade into a saucepan over medium-high heat. Boil 2 minutes. Drizzle sauce over pork before serving.

We started buying pork tenderloins at Costco in bulk because we liked this recipe so much. And then my mother-in-law told me I could add the marinade before freezing the pork, which is sheer genius.
I mix up a big batch of marinade and make up several ziplock bags, each with a tenderloin and marinade, and toss them in the freezer. If we want this for dinner, I set one out before I go to work. During the day it slowly defrosts and marinates and is ready to grill when we get home.
Such an easy way to have an elegant main dish in no time!


From Southern Living 2009 Annual Recipes.

See more Mouthwatering Monday recipes over at Rachel's!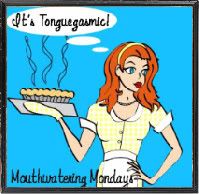 Happy Monday!