When I was growing up, whenever my mom made a pie she also made a cinnamon roll. Now, when Shark Boy sees me with pie crust the first thing he says is, "Can we make a cinnamon roll?" And if I don't watch carefully, he'll eat the whole thing and not share!
These are a great way to let kids learn to bake. When you are trimming your pie crust, ball up the leftover dough and let them roll it out. It doesn't have to be any particular shape or size as long as it's about the same thickness you would use for a pie crust.
Spread butter all over it.

Now sprinkle it with sugar and cinnnamon.
Roll it up, and spread a little butter on top and one more sprinkle of sugar and cinnamon.
Place it in the most ancient, beat up small pan you own. (good grief)
Put it in the oven next to your pie. I usually pull mine out after 5-7 minutes (when it starts to brown on top).
Hot, fresh cinnamon pastry!
I loved the cinnamon rolls as much as the pie when I was little!
More ideas:
Make a lot of smaller ones (cigarette size) to serve on the side of some butter pecan ice cream for an elegant and easy adult dessert. OR
Add chopped nuts before you roll it up. OR
Drizzle the top with powdered sugar and milk icing.
See more Mouthwatering Monday recipes over at Rachel's!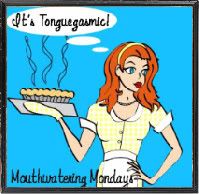 Happy Monday!